Dave Sadler
"Matchbox"
BluezArt Records
By Peter "Blewzzman" Lauro © January 2015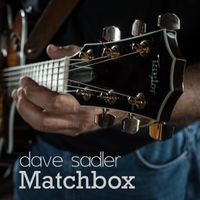 Dave Sadler is one of those musicians who grew up in a musical household and, as his biography states, he's even got some of Johnny Cash's blood running through his musical veins.  Regardless of how artists like Dave learn to do what they do - and in Dave's case, he's self taught - I still refer to it as learning through osmosis.  Or more commonly, being a "chip off the old block".    
Growing up on the edge of the Delta, in Pine Bluff, Arkansas, Dave had an opportunity to be exposed to the regions predominant music - the blues - and once he was, there was no looking back.  With early influences such as B. B. and Elmore, and later on the likes of Clapton, Cray and SRV, Dave's style of blues tends to be an excellent blend of straight up blues and blues rock.    
"
Matchbox
" is Dave's third release and of its ten tracks, five are originals.  On it, Dave Sadler - on guitars, bass, vocals and harmonica - is joined by: Jim McCarty, Frank Briggs, Mel Sarreal and Jesse Rocha on drums; Randy Landas, James Ryan and Dave Grant on bass; Phil Clarke on keyboards; Roly Platt on harmonica; Pat Murdoch on guitar; Dan Cipriano on horns; and Marvin Taylor on drums, bass and guitar.  Sounds to me like there should be some smokin' rhythm coming up, let's go check it out. 
"
Junior's Jam
" is one of four instrumentals that can be heard on "
Matchbox
" and as I expected, this original track is full of solid rhythm.  This track appeared on 
Mary4Music Presents: Keeping the Blues Alive - Volume Six
 and I'll just stick with what I had to say about it then..."
Junior's Jam
 is an all-out, full throttle instrumental with everyone kicking ass.  Led by some seriously intense guitar work by Dave and a drummer - Jim McCarty - who's totally trying to wear himself out, this one totally rocks.  Good old smokin' blues". 
On "
Satisfaction Guaranteed
", another original, Dave turns the bass duties over to James Ryan and along with some monster drum work by Mel Sarreal, they once again keep the rhythm smoking.  Add to that Dave belting out some of the discs best vocals, and blowing the hell out of a harp, and you've got another of the discs many highlights. 
The fierce musical energy these guys are putting out remains at full tilt on "
You Put Me Out
", yet another Dave Sadler original.  This one features Dave showcasing some amazing harmonica skills, Phil doing the same with some freaking crazy piano and organ work and with what's become every tracks common denominator - more rockin' rhythm.     
"
Fourth Street Ruckus
" is another of Dave's original instrumentals and this track appeared on 
Volume One of the Mary4Music compilation CD series
.  Once again, what I had to say then is what I'll say now.... "
Fourth Street Ruckus
 could have also been called Fourth Street Melee, Fourth Street Free For All or Fourth Street Donnybrook.  Basically, they all mean that all hell is breaking loose and that's exactly what's going on musically on the five minute instrumental.  Leading the way with relentless guitar playing, Dave and the band are kickin' ass". 
Having had lots of smokers before it, the disc closes out with a very relaxing instrumental.  It's a cover of one of the best songs ever written.  As a matter of fact, 
Rolling Stone
 magazine named it the 24th greatest song of all time, it's 20th on their list of the one 100 greatest guitar tracks and it's been inducted into the 
Grammy Hall of Fame
.  I'm talking about Curtis Mayfield's Gospel influenced composition titled "
People Get Ready
".  On this rendition, Dave - who's also playing bass on the track - surely does his part in living up to the reputation the song has for it's guitar work.  His playing is immaculate and flawless.  Other highlights on this one include hymnal organ effects and perfectly subtle drum and cymbal work.  Thirsting for more, this 2:57 masterpiece received many replays. 
Other tracks on "
Matchbox
" include: 
"I Got All You Need", "Matchbox", "Cissy Strut", "You Should'a Known" 
and
 "Killing Floor". 
If rock'em, sock'em, rhythm fueled, smokin' blues lights your fire, then you need to get your hands on a copy of "
Matchbox
".  You can do that by going to 
www.davesadlermusic.com
.  While you're there, please tell him his friend the Blewzzman sent you.  While you're at it also tell him I'm looking very forward to that beer.....and the shot of tequila.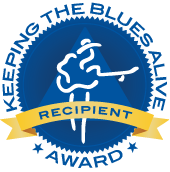 Peter "Blewzzman" Lauro
Blues Editor @ www.Mary4Music.com
2011 Keeping The Blues Alive Award Recipient